Our Mission:
Community Link Federal Credit Union is committed to being the first-choice financial institution in the community dedicated to providing a full range of services to its members in a professional, personal manner.
History:
Community Link Federal Credit Union was established in 1932 as Huntington County Farm Bureau Cooperative Association Credit Union and was located in the old Huntington County Co-op Grain Mill. The grain mill was located where the historical museum now sits.  We were started by local farmers who did business at the grain mill. They wanted a place to save money and eventually loan money to each other.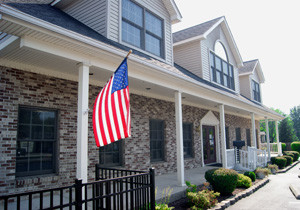 When the grain mill went out of business the credit union moved to its current location on Etna Avenue which was once a Texaco gas station. The credit union moved in to the small building that Texaco once housed. In 1992 the credit union changed its name to Huntington County Farm Bureau Credit Union.
After several years the credit union eventually grew out of space and around 1996, the old building was demolished and they built the beautiful building that you know today. In 2002, the credit union changed its name, once again, to Community Credit Union. Finally, in 2006 the credit union changed its name for the last time to Community Link Federal Credit Union as a result of becoming a federally chartered credit union. We are proud of our long history of serving Huntington County and are excited to see what the future holds for us.
There's Room for You in Our Family Tree:
At Community Link Federal Credit Union, you're more than your account number, your balance, or your credit score…
You're family.
And just like families take care of one another, we want to take care of you.
When you walk through our door, we're excited to see you.  We look forward to hearing about your day or your upcoming adventure.  We want to hear about your daughter's birthday party, your son's new job, or the new pet you just adopted.  We want to get to know you.
It's just that simple.
If you haven't experienced banking that truly cares about you, we'd love to give you that chance.
So come on in and join our family.